SwingAway Jennie Finch Gold Medal Edition Softball Hitting System
SKU:

S09-SA100SBR

UPC:

898724002178

MPN:

SA100SBR

Availability:

No Longer Available. See Details Below!

Shipping:

Free Shipping

shipping_label:

free
Description
The Jennie Finch Softball SwingAway is no longer available from the manufacturer.
The Jennie Finch Gold Medal Edition SwingAway Softball Hitting Trainer is specifically designed for Home Training of all players regardless of their age or skill level. This machine is also great for team use for all Little League divisions. The Gold Medal Edition allows varsity and youth players to train year-round on the most popular training station ever made.
The Jennie Finch Gold Medal Edition SwingAway converts very easily to a world class pitch-back and folds in seconds for storing.
SwingAway Jennie Finch Softball System Features:
Provides the feel of hitting live pitches without chasing or picking up balls
Made of High Quality 18 gauge Galvanized Steel
Set-up size of the Frame is 62" x 50" with highest point of 6'2"
Recommended Space is 10' x 10' area
Total Weight is only 36 lbs
3 second ball return means 10-15 quality swings per minute or 100-150 swings in only 10-15 minutes!
Develops Proper Swing Mechanics, Muscle Memory, Bat Speed, Power and Confidence
Train Year-Round, set up indoors or outdoors. Unit folds flat in seconds for maximum portability and storage
Converts easily to a World Class Pitch-Back for defensive and throwing drills
Professional, High School, College Programs should consider ordering a SwingAway PRO.
SwingAway Hitting System Assembly Manual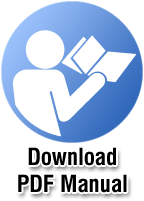 Also Includes
The Patented SwingAway Hitting Mat - replicates the inner portion of the Batter's Box, featuring an Official Size Home Plate and will allow the hitter to "visualize" where to connect and drive the pitched ball. The mat is marked for both Right and Left handed Hitters and numbered baseballs showing the "Proper Contact Points" plus Directional Arrows to show where to Drive the Pitches that are Inside, Outside, or Down the Middle. The SwingAway Hitting Station combined with the Hitting Mat will train players of all ages and skill levels to hit the ball where it is pitched, pulling the inside pitch, going opposite field with an outside pitch and driving the middle pitch right back where it came from. The SwingAway and SA Mat Combination will show you the direction and the trajectory of the hit ball plus the SA will train the hitter to hit hard powerful line drives to the proper field for any pitch location with a Short Powerful Compact Swing.The SA Mat is also a great stand-alone tool to use during live batting practice, soft toss and tee drills.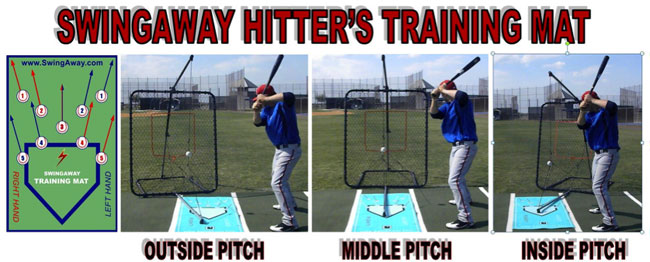 "SwingAway®" IS A COPYRIGHT PROTECTED TRADEMARK. ALL "SwingAway®"HITTING SYSTEMS ARE PROTECTED UNDER U.S. PATENTS 5,795,250 AND 7,914,400.
View All
Close
Warranty Information
All SwingAway Hitting Systems are covered with a special 90 day Limited Warranty which covers all defects in material and workmanship for the original owner only. This warranty does not cover cords, bungees, balls and other parts due to normal use. The warranty does not cover institutional or commercial use or the misuse by any other consumer.
View All
Close